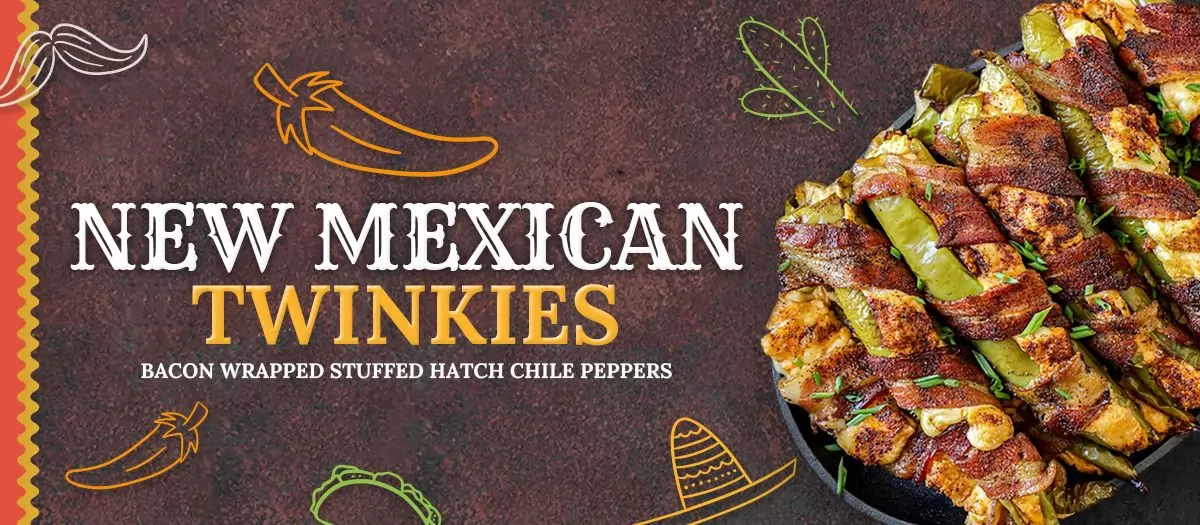 Boost Your Tailgate Experience with Hatch Chile New Mexican Twinkies
by Top of the Hill on
September 1, 2023
September kicks off the tailgating season, and we have the perfect recipe for your next football frenzy!
If you're a fan of the Texan classic, the "Texas Twinkies," then prepare to be pleasantly surprised by our unique twist on this beloved treat - New Mexican Twinkies. At Top of the Hill Quality Produce, Owner Damu Maples demonstrates how to grill these delicious appetizers in his unique DDK style:
What Exactly Are New Mexican Twinkies?
While Texas Twinkies are known for their jalapeño kick, our New Mexican Twinkies offer a distinct difference. Hatch chiles, a specialty of the Hatch Valley in New Mexico, take center stage in this culinary creation. They come in different heat levels: sweet, mild, hot, and extra hot. We chose the "hot" stage in our recipe because it brings about the same heat as a jalapeño pepper but without the overpowering kick. We then stuff the peppers with cream cheese and brisket, before wrapping those babies up in bacon that cooks up extra crisp. This combination offers a perfect balance of textures and flavors.
Let's learn about what makes Hatch peppers so unique.
The Wonders of Hatch Chiles: A Taste of New Mexico's Finest
Hatch, a charming city nestled in the fertile valley of New Mexico, proudly carries the title of The Chile Capital of the World. Unlike other single-variety chiles, Hatch chiles come in various types, such as "Big Jim," "Joe Parker," and "Sandia." This diversity of flavors and heat levels allows for various culinary creations that cater to different preferences.
As the chile season begins, vibrant green Hatch chiles take the culinary spotlight. They become key ingredients in many mouthwatering dishes, including rellenos, enchiladas, and hearty stews. Then as the season progresses, the chiles mature, turning a fiery shade of red. These matured chiles are carefully dried and transformed into the iconic red chili sauces that infuse a multitude of Southwestern and Mexican-inspired dishes with their rich flavors.
Celebrating the Hatch Chile Heritage
Each Labor Day Weekend, the city of Hatch becomes a hub of excitement as it hosts the annual
Hatch Chile Festival
, a tradition now in its 51st year. People from all around the globe gather to partake in this celebration of Hatch chiles, savoring the unique tastes, aromas, and culinary creations that pay homage to this incredible pepper.
Crafting the Perfect New Mexican Twinkies
When crafting the perfect New Mexican Twinkies, there are several variations to choose from. The common theme across these variations is the fusion of the rich Hatch chile flavor with delightful ingredients to create a truly irresistible taste. Our rendition keeps it simple yet sensational. We dare you to try just eating one!
Ready to get started? Here's how to make them with just 4 ingredients:
1. 1 lb. Smoked Brisket
2. 8 oz. Cream Cheese, like this organic one we sell in our store
3. About 24 strips of bacon
4. About 14 large Hatch chiles
Mixture: Mix the smoked brisket with some creamy cheese to make a decadent filling.
Hatch Chile: Open up a Hatch chile and stuff it with a generous portion of the brisket-cream cheese mixture.
Bacon Wrap: Wrap the stuffed chile in 2 slices of bacon.
Grilling: Place the bacon-wrapped chiles in a preheated, 375-degree grill and let it cook until the bacon is crispy (about 30 minutes).
And that's all there is to it!
At Top of the Hill Quality Produce, we're proud to bring the flavors of Hatch chiles to life by sharing our New Mexican Twinkies recipe with you. Let us know if you end up making them!
back