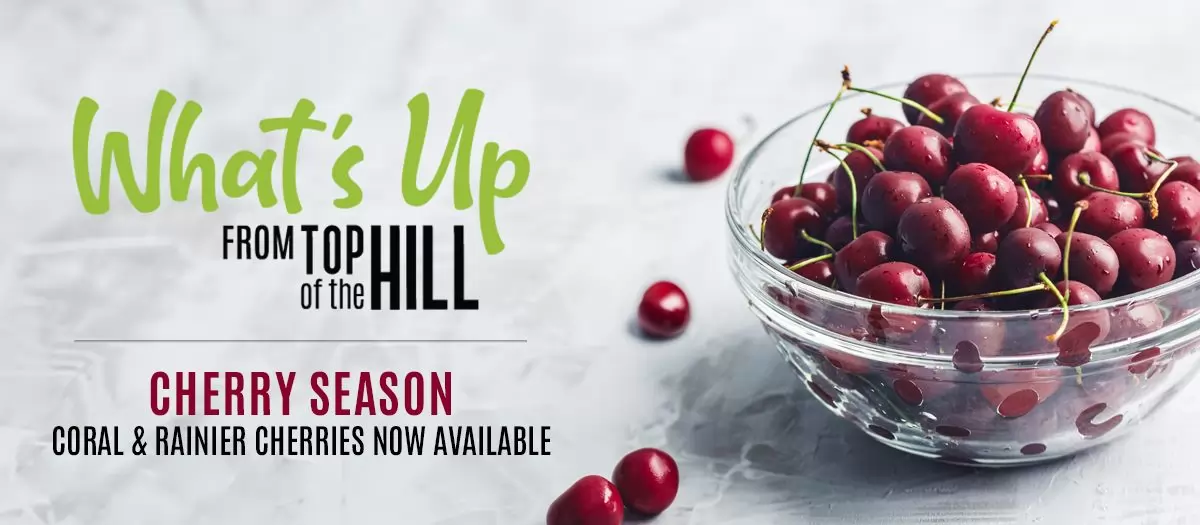 Cherry Season is Here!
by Top of the Hill on
July 10, 2023
Now is the time to enjoy the bounty of summer by picking up the fresh sweet cherries that are now in season. At Top of the Hill, our cherries are delivered fresh from Yakama Washington, guaranteeing the utmost quality and flavor. This season we have two varieties, Coral, and Rainier Cherries. Coral Cherries, like Bing Cherries, are dark red in color with a sweet, tangy taste and are great for snacking. Their vibrant bold flavor makes them great for baking, making jams. and adding to salads or drinks. Rainier Cherries are bright yellow with a red blush and have a sweet and delicate flavor, and are best eaten fresh. Their taste can get lost when cooking or baking them, but they work great with any dish that requires fresh cherries.

For an extra special summer BBQ dish, try making a cherry salsa. This simple salsa is a delightful combination of sweet and tangy, perfect for pairing with grilled meats, topping off tacos, or enjoying a zesty dip with your favorite tortilla chips. To begin, take a chopstick or a straw and use it to push the pit out of the stem end of the cherry. After a good number of cherries have been pitted, chop them and add them to a bowl. Mix in finely diced red onion, jalapeno, cilantro, lime juice, salt, and pepper, stirring gently so that the flavors can combine. Allow the salsa to rest for at least fifteen minutes so the flavors can meld together and intensify. Enjoy the delicious sweetness of cherries and the spicy zest of jalapeno as you dip your favorite tortilla chips or use as a topping on tacos. This summer recipe is sure to please and impress with its combination of sweetness and spice.

Cherries are a delectable summer treat that won't be around forever. Make the most of their limited availability and enjoy them in any way you please - whether it's snacking on them or cooking them up in a delicious recipe. Don't miss out on these delightful delicacies!

back