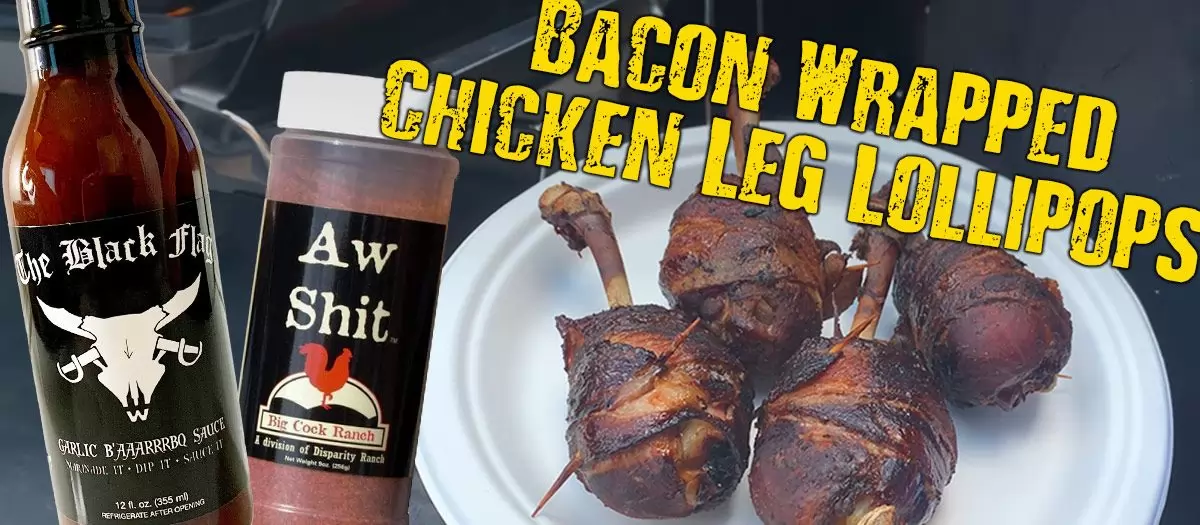 Crowd-Pleasing Tailgate Recipe: Bacon-Wrapped Chicken Lollipops
by Top of the HIll on
July 24, 2023
In celebration of
National Grilling Month
, we thought we'd help you take your tailgate parties to a whole new level with an irresistible crowd-pleaser: Bacon-Wrapped Chicken Lollipops! These delectable treats will be the talk of the town at your next tailgate. Juicy chicken drumsticks, transformed into finger-friendly lollipops, wrapped in crispy bacon, and grilled to perfection – it's a recipe that promises to elevate your tailgate game to a whole new level of flavor and fun!
What Are Bacon-Wrapped Chicken Lollipops?
Imagine a mouthwatering fusion of juicy chicken drumsticks (like these
Smart Chicken organic drumsticks)
and crispy bacon, but with a delightful twist! Bacon-wrapped chicken lollipops take the traditional drumstick and turn it into a visually stunning and finger-friendly treat. The secret lies in the art of "Frenching" – skillfully removing the meat from the bottom end of the drumstick, pushing it down to the top, and creating a convenient "handle" that resembles a lollipop. Genius, right?
To top it all off, the chicken lollipops are then lovingly wrapped in savory, smoky bacon, adding an extra layer of indulgence that will leave your taste buds begging for more. Picture the perfect balance of flavors, with the juicy chicken and the salty bacon dancing harmoniously in your mouth. It's a culinary experience like no other!
Why Tailgate Food is Simply Irresistible
Tailgate food is more than just sustenance before the big game – it's a cherished tradition that brings people together in celebration and camaraderie. The excitement of preparing food right at the event, the aroma of grilled goodness filling the air, and the cheerful atmosphere all create an unforgettable pre-game experience.
It doesn't matter if you're an avid sports fan or just love a good party: tailgate food never disappoints. And with dishes like bacon-wrapped chicken lollipops, it's easy to see why! These bite-sized delights are perfect for sharing, making them the ultimate conversation starter and a surefire way to make new friends at the tailgate.
Let's Get Cooking!
Now that we've got your taste buds tingling, it's time to whip up some bacon-wrapped chicken lollipops of your own. Don't worry; it's easier than you think! Check out this step-by-step video from Top of the Hill owner, Damu, as he walks you through the process:
1. Start by skillfully "Frenching" the chicken drumsticks, revealing the bone and creating the lollipop handle.
2. Generously season the chicken with your favorite spices or perhaps a dash of the renowned
Aw Shit brand seasoning
.
3. Lovingly wrap each drumstick with mouthwatering bacon, ensuring every inch is covered in savory goodness.
4. Secure the bacon in place with toothpicks, so your lollipops stay picture-perfect on the grill.
5. Place those delectable creations directly on the grill and cook them on low heat for about 25 minutes on each side, until the bacon is irresistibly crisp, and the chicken is perfectly cooked through.
Serving Suggestions and Variations
Now that your bacon-wrapped chicken lollipops are cooked to perfection, it's time to serve them up and enjoy the praise that's about to come your way! These lollipops are delicious on their own, but you can take them to the next level with some creative serving ideas and mouthwatering variations:
1. Dipping Delights: Offer an array of dipping sauces like tangy BBQ, zesty ranch, or spicy honey mustard. Let your guests choose their favorite, or try them all for an explosion of flavors! Damu likes to use
The
Black Flag Garlic B'aaarrrbq Sauce (also comes in this sugar-free variety).
2. Asian Fusion: Infuse some Asian flavors by marinating the chicken with soy sauce, ginger, and garlic before wrapping them in bacon. Serve with a side of sesame seeds for added crunch.
3. Try experimenting with different seasonings and spices for your rub.
Now that you've unlocked the secret to creating the ultimate tailgate treat, it's time to share your culinary masterpiece with friends and family. Top of the Hill Quality Produce and Meats in Renton, Washington, also carries
Woodstock Hardwood Lump Charcoal
and other barbeque necessities to make sure you are good to go. So, fire up the grill, get the party started, and let the aroma of bacon-wrapped chicken lollipops draw everyone in. Get ready to make memories that will last a lifetime at your next tailgate! Cheers to good food, good company, and good times!
back