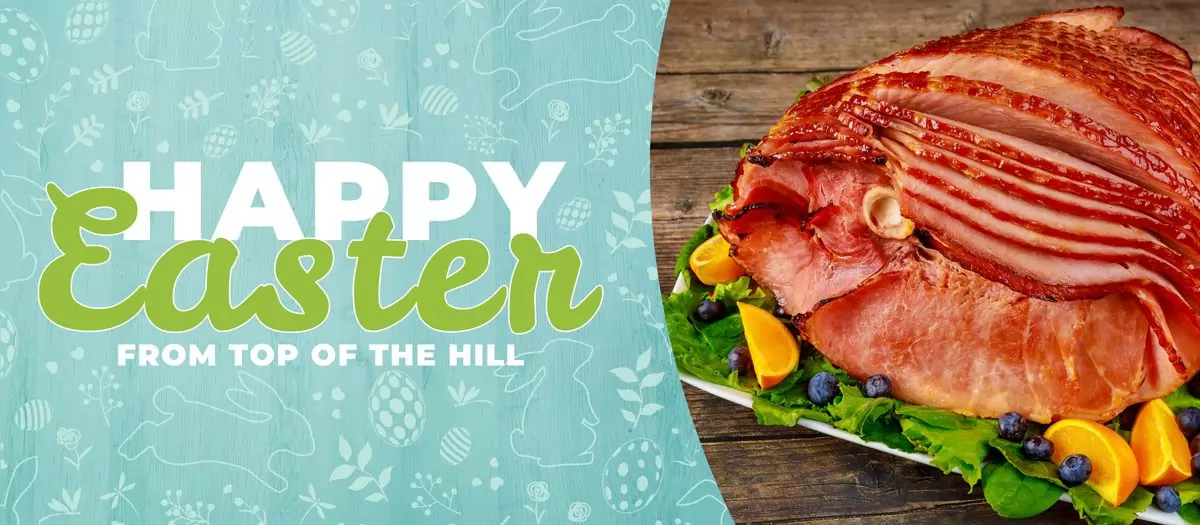 Easter is Almost Here!
by Top of the Hill on
April 4, 2023
Easter is just around the corner, and you know what that means - it's time to hop to it and start planning your Easter feast! Whether you're celebrating with family or friends, there's no better way to get into the spirit of the season than by enjoying some delicious food and treats. And we've got you covered with our amazing selection of Easter specials.

Let's start with the Easter basket. We've got everything you need to create your own custom Easter baskets that will delight both kids and adults alike. From classics like chocolate and marshmallows to gourmet popcorn, our selections have got you covered.

Easter isn't just about treats - it's also the perfect time to enjoy some fresh spring produce. Our selection of fresh vegetables and herbs will add a burst of color and flavor to your holiday meal. Whether you're roasting asparagus or tossing snap peas in a salad, you can be sure that our locally sourced produce is of the highest quality.

When it comes to Easter dinner, there's one thing that's absolutely essential: the centerpiece of the meal. And at our store, we've got you covered with a fantastic selection of ham and lamb. Whether you prefer a juicy, glazed ham or a succulent leg of lamb, we've got different cuts and sizes to meet your needs. And if you're not quite sure which one to choose, don't worry - watching our video featuring Jackie will give you all the information you need to make the perfect decision. So be sure to check it out before you make your Easter feast plans!

Come visit us at our store and start planning your perfect Easter feast today. We can't wait to help make your Easter celebration extra special this year!
back