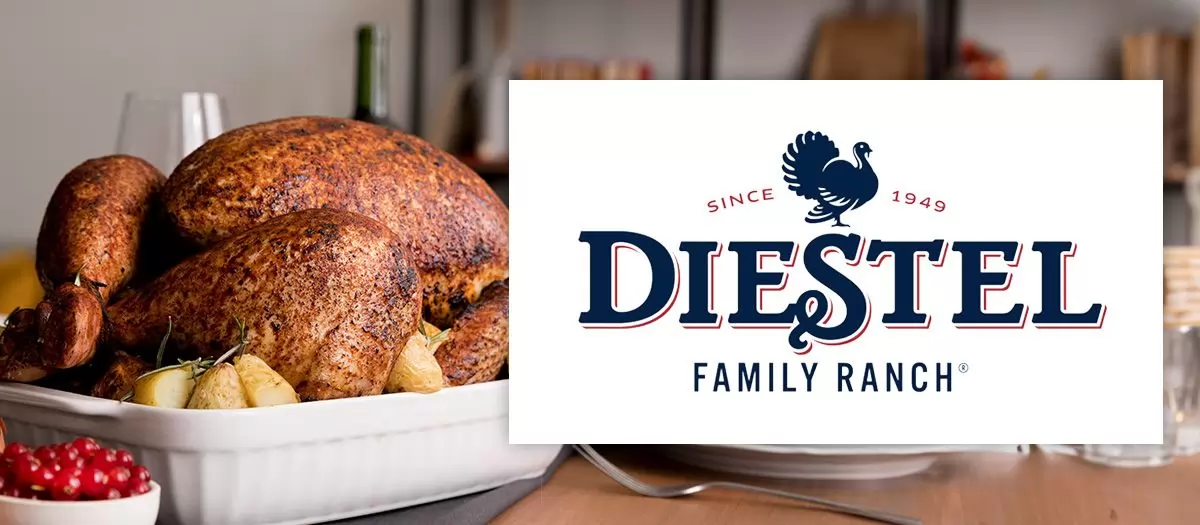 FRESH off the Farm: Why Diestel Has the Best Turkeys
by Top of the Hill on
November 13, 2023
There's no denying the star of the Thanksgiving dinner table is the turkey. It's the dish that brings everyone together and fills the house with a mouth-watering aroma. But when it comes to choosing the perfect bird, there are countless options out there. Top of the Hill Quality Produce believes in carrying premium quality items, which is why we carry
Diestel Family Farms
fresh turkeys. We have a limited supply this year, so
please come into our store or call us at (425) 226-4316 to order your fresh whole turkey, turkey breast, capon or goose today!
In the meantime, you may be wondering why should you choose Diestel Family Farms fresh turkeys. Well, Let's just say they know a thing or two about raising and preparing the best turkeys around. And with Thanksgiving just around the corner, it's time to learn why Diestel is the go-to for fresh turkeys and how to cook a turkey to perfection.
The Diestel Difference: Why Choose This Family Farm for Your Turkey Needs
When it comes to choosing the perfect turkey for your Thanksgiving feast, there's one family farm that stands out from the rest: Diestel Family Farms. With their commitment to quality, taste, and sustainable farming practices, it's no wonder they are a go-to for fresh turkeys.
First and foremost, Diestel Family Farms have been in the turkey business for over 70 years, passing down their expertise from generation to generation. Their turkeys are raised with care, fed a vegetarian diet, and given plenty of space to roam and thrive. This attention to detail translates into a bird that is flavorful, tender, and of the highest quality.
But it's not just their farming practices that set Diestel apart. They also take pride in their commitment to sustainability. From the renewable energy sources they use on their farms to their water conservation efforts, Diestel Family Farms is dedicated to minimizing their environmental impact. By choosing a Diestel turkey, you can feel good knowing that you are supporting a farm that values sustainability and responsible farming practices.
The "Fresh" Factor: What Does a Fresh Turkey Mean?
The word "fresh" is often thrown around. But what does it actually mean?
According to the
USDA
, "the term fresh may ONLY be placed on raw poultry that has never been below 26° F. Poultry held at 0° F (-17.7°C) or below must be labeled frozen or previously frozen".
It's a good idea to pick up your turkey a couple of days before you plan to cook it, so make sure you've cleared out space in your refrigerator before then.
How Much Turkey Do I Need?
Most chefs agree that planning on 1.5 pounds per person, regardless of age, should cover you.
Kitchen Ready: Diverse and Delectable Ways to Cook Your Turkey
Once you've chosen a turkey for your Thanksgiving feast, the next step is figuring out how to cook it to perfection. First, you'll want to r
emove the sack that contains the giblets that are inside the turkey.
Then r
inse your turkey well both inside and out with cold water, and pat dry with paper towels. Now you're ready for the next step that will fill your kitchen (or backyard) with the wonderful holiday aroma we look forward to each fall and winter.
Let's talk about the different ways you can cook your turkey:
One popular method is roasting, which involves cooking the turkey in the oven. This is a classic and reliable way to achieve golden, crispy skin and moist, tender meat. Get tips on roasting your turkey in this article.
If you need extra kitchen space and have an outdoor barbeque, then grilling your turkey is another method of cooking your holiday bird.
If you're feeling adventurous AND need to free up your oven for side dishes, you could also try smoking your turkey. This adds a delicious smoky flavor and tenderness to your meat which is a tasty alternative to the traditional herbs and rubs. Here is one recipe suggestion for smoked turkey.
When it comes to seasoning your turkey, the options are endless. You could go with a traditional herb rub, combining rosemary, thyme, and sage for a classic flavor profile. Or, if you're looking to spice things up, you could try a Cajun rub or a citrus-herb marinade. Top of the Hill Quality Produce & Meats has a variety of dry seasonings and spices, as well as fresh herbs to choose from. Whatever flavors you choose, be sure to season the bird's outside and inside for maximum flavor.
Stop by our store in Renton, WA, where you can not only order your Diestel Fresh Turkey but also easily pick up all the necessary ingredients to create a delicious Thanksgiving feast. The friendly staff can help you with seasonings and herbs, suggestions for tasty sides, desserts, and more!
Lost in Turkey Land? There is Help!
Feeling overwhelmed with the task of preparing your fresh turkey? Don't worry, there are several options to get advice and help:
Even though this blog features Diestel Farms Fresh Turkeys, we did want to mention the Butterball Turkey Talk-Line for help and tips. Just call 1-800-BUTTERBALL (800-288-8372) to speak to a live human!
You can also shoot a quick text to their experts at (844) 877-3456, or
Hop into a live chat on their website. Just click on the turkey icon at the bottom right corner.
Of course, there are endless videos on YouTube to help you with ideas and tips.
For hands-free help, use your voice assistants. Alexa, Google or Siri are standing by waiting to be asked all your questions.
We hope this blog was a helpful resource for you to help get you organized for your Thanksgiving hosting.
Happy Thanksgiving everyone!
back