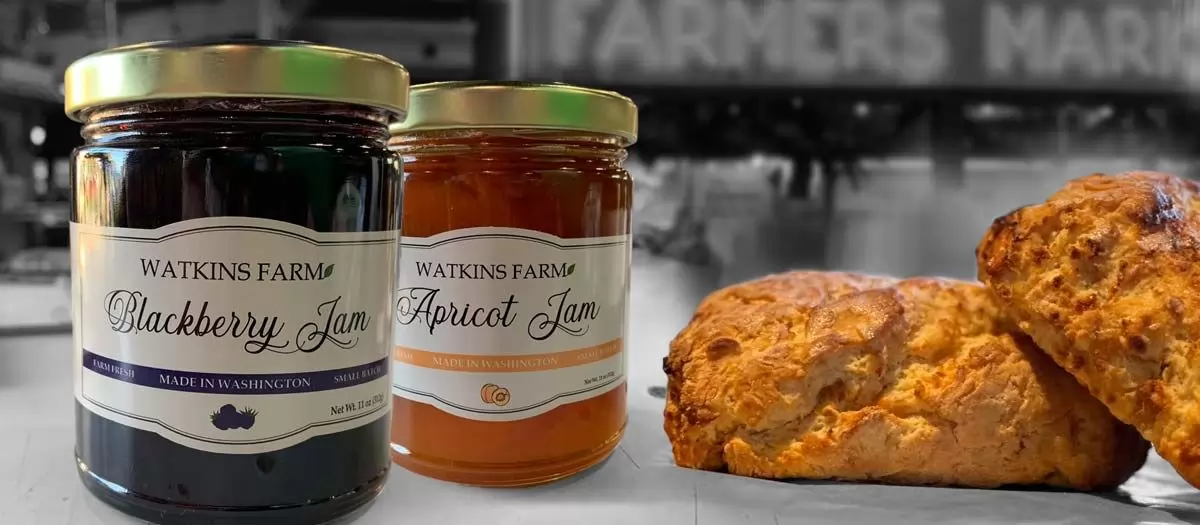 From farm to spread: Watkins Jams and Honest Biscuits pairing
by Top of the Hill on
September 18, 2023
Hello everyone!
In this blog, we're going to be highlighting two products that we carry at Top of the Hill Quality Produce: Watkins Farm from Cashmere, WA, and Honest Biscuits from Seattle's Pike Place Market.
Discovering Watkins Jams: A Local Farm's Specialty
Nestled in the scenic town of Cashmere, Washington, Watkins Farm is a local gem that specializes in farm-fresh jams and other fruit products. What started as a hobby, these jams are now a successful, WSDA-licensed small business processing facility. This women-owned business and family-run farm takes great pride in producing small-batch jams made with locally sourced fruits. These jams are crafted with love and care, showcasing the best of Washington's abundant fruit offerings.
Currently, Top of the Hill carries blackberry, peach, apricot, and raspberry flavors, but we are looking to carry more choices. If there's a flavor you'd like us to have in stock, please let us know!
Ok back to the pairing: When you spread Watkins Farm jams over a warm Honest Biscuit, you're in for a delightful experience that combines the sweet and tangy flavors of the jam with the buttery goodness of the biscuit. It's a "heavenly treat!", as Jackie says in the video below. Now, let's learn about what makes Honest Biscuits so special.
Honoring the Artisanal Tradition of Honest Biscuits
Seattle's Pike Place Market is a hub of artisanal delights, and Honest Biscuits is no exception. This beloved biscuit company embraces the artisanal tradition that makes Pike Place Market so special and ensures that every bite is a delectable experience. The main ingredient that sets their biscuits apart is Washington's Shepherd's Grain flour., which is the same flour used in the finest bakeries in town. It's the key to achieving the light and fluffy goodness on the inside, while obtaining the crunchy texture on the outside, It's no wonder that they have become a staple at Top of the Hill in Renton, where you can easily find their delicious creations without having to travel to downtown Seattle. Honest Biscuits provide the perfect canvas for showcasing the flavors of Watkins Jams.
So the next time you're in the mood for a satisfying breakfast or afternoon snack, reach for Honest Biscuits and Watkins Jams. These can be enjoyed with your morning coffee or afternoon tea. the biscuit and jam pairing is one that not only celebrates the best of Washington's local food scene but also supports local businesses committed to crafting their culinary creations with only the finest ingredients.
back