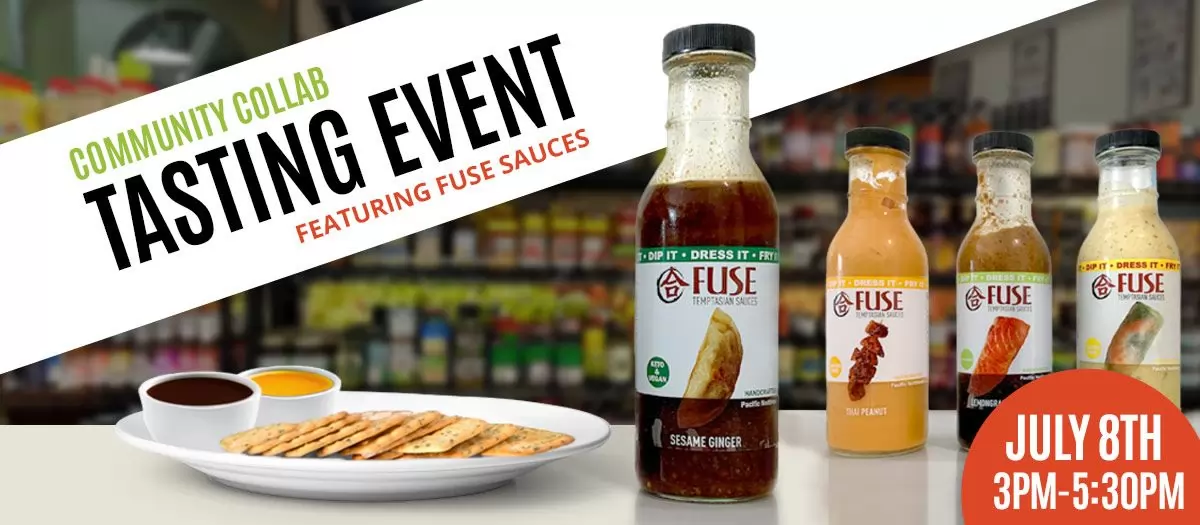 Sample Fuse TemptAsian Sauces at our Tasting Event
by Top of the Hill on
July 3, 2023
Are you ready to get tempted by the amazing flavors of
Fuse TemptAsian sauces
? On Saturday, July 8th from 3-5:30pm, Top of the Hill Quality Produce is hosting a tasting event featuring these delicious sauces. Offering four varieties from this woman-owned Seattle company, these sauces can be used to make everything from hors d'oeuvres to stir-fries. You'll be able to purchase the sauces and other fresh ingredients to try out a new recipe at our store afterward. Don't miss out on this amazing opportunity to sample these unique and flavorful sauces!
About Fuse TemptAsian Sauces
Fuse TemptAsian Sauces are a line of premium sauces that are perfect for anyone looking to add a delicious and healthy touch to their meals. Originally available in 2010 at local farmers markets, high-end retailers, and restaurants/cafes in Vancouver, these sauces were born in Seattle in 2014. According to their website, the mission of Fuse TemptAsian Sauces is to "inspire you to get saucy so you can cook easier, eat happier and be healthier!"
It's worth noting that the company has received recognition for its efforts to promote healthy eating habits. Fuse Restaurants, the parent company behind Fuse TemptAsian Sauces, was rewarded a grant by the Heart & Stroke Foundation. And because they're made with premium ingredients, these sauces offer diabetic, keto, gluten-free, and vegan options.
Versatile Uses for Fuse Sauces
Let's take a look at the different flavors and how they can be used to
create amazing dishes
!
1. Sesame Ginger is a favorite for its bold, yet balanced flavor profile. It pairs perfectly with Grilled Cilantro Pork Dumplings. Use it to make Sesame Ginger Chicken Wings (Keto Friendly), Asian Trail Mix, and Smokey Sesame Slaw.
2. Thai Peanut is a must-try for lovers of Thai cuisine. Its unique combination of sweet and spicy flavors makes it the perfect sauce for Thai Chicken Noodle Salad, Easy Pad Thai, and Thai Chicken Tacos. Plus, it's gluten-free, so it's perfect for anyone with dietary restrictions.
3. Lemongrass Soy is a game-changer when it comes to Asian-inspired dishes. It's great for Crispy Lemongrass Pork Belly, which is a dish that is sure to impress. Top of the Hill co-owner Jackie Maples recommends using it on Brussels sprouts. With this sauce, you can elevate any meal to a new level.
4. Honey Cilantro is perfect for those who love a little bit of sweetness in their dishes. It's great for Creamy & Decadent Potato Salad, which is perfect for summer barbecues. You can also use it as a sauce for Creamy Deviled Eggs, which is a unique twist on a classic appetizer.
These are the four sauces that Top of the Hill currently carries, but Fuse is also releasing a brand new Siracha Sambal sauce for those who like to add a spicy kick to their meals. Word has it that you may be able to sample this new flavor at our event too.
Come to Top of the Hill Quality Produce's tasting event on Saturday, July 8th from 3-5:30pm to try the sauces for yourself, and ask about cooking tips from both the Fuse TemptAsian Sauces owner (Christina) and the Top of the Hill owners (Jackie and Damu). It will be a great community collab event!
back