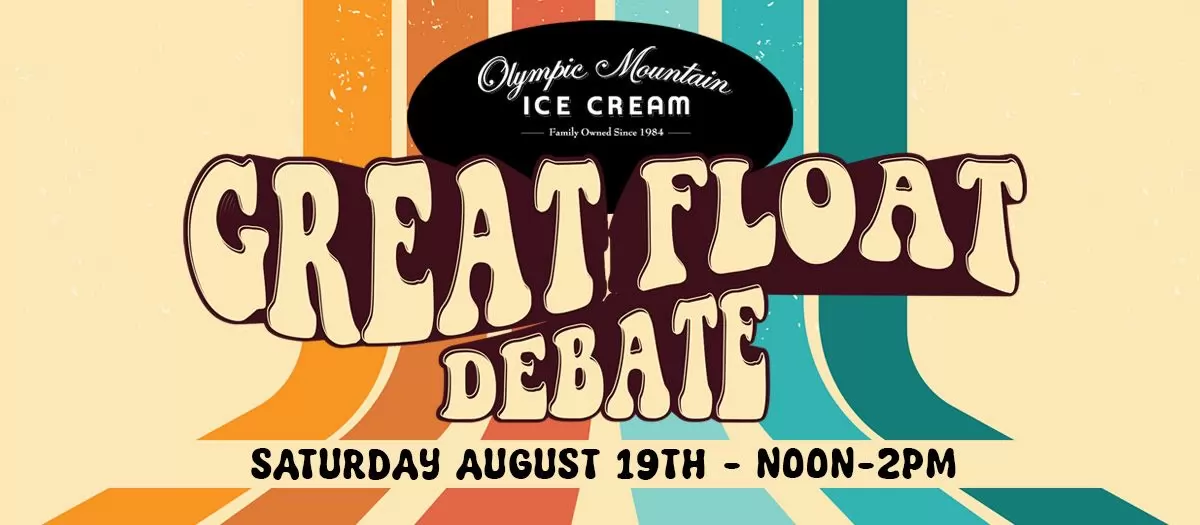 The Great Float Debate: Which Combo Will Come Out on Top?
by Top of the Hill on
August 10, 2023
Are you ready for the ultimate ice cream float showdown? On
Saturday, the 19th, from 12-2pm,
Top of the Hill Quality Produce in Renton, Washington, is hosting The Great Float Debate, featuring
Olympic Mountain Ice Cream's Madagascar Vanilla
. Choose from three delicious combinations – cola, root beer, or lemon-lime soda – and vote for your favorite. Let your taste buds decide which combo will come out on top in this epic battle of ice cream floats.
The History of Ice Cream Floats
The history of ice cream floats can be traced back to the late 19th century. Although the exact origins of this sweet treat are unclear, it is believed to have originated in the United States. The combination of soda and ice cream first gained popularity in the early 1900s and quickly became a classic American dessert. One of the earliest recorded mentions of an ice cream float is in a newspaper article from 1874, which referred to a beverage called a "Coke float." This suggests that the concept of combining carbonated beverages with ice cream has been around for over a century. However, it wasn't until the 1920s that the term "ice cream float" became widely used.
The Classic Contenders
Root beer floats are perhaps the most well-known and beloved variety of ice cream floats. The pairing of rich, creamy vanilla ice cream with the bubbly, sassafras-flavored root beer is a match made in dessert heaven. Another popular choice is the 7-up float, which combines the zesty citrus flavors of 7-up with creamy vanilla ice cream. The cola float is a tried-and-true favorite and is perfect for those who enjoy a more subtle and familiar taste. The rich, caramel notes of cola complement the sweet and creamy vanilla ice cream, resulting in a flavor combination that is both nostalgic and comforting.
Meet the Ice Cream: Olympic Mountain Madagascar Vanilla
This delectable ice cream is made locally in Shelton, Washington, with high-quality ingredients, including real Madagascar vanilla beans. It's made in small batches to ensure the highest level of quality and taste.
Top of the Hill Quality Produce also carries these other flavors to change up your dessert nights:
•
Bordeaux Cherry Chocolate Chip
•
Espresso Flake
•
Double Chocolate Almond
•
Toasted Coconut
•
Lemon Cookie
All of the Olympic Mountain ice cream flavors are in such high demand, they fly off the shelves with every new shipment! So if you're feeling inspired, take home a pint or two while they're in stock to experiment with your own ice cream float recipes at home. Get creative with different soda flavors and ice cream varieties.
How to Make an Ice Cream Float
The beauty of ice cream floats lies in their simplicity. All you need is a scoop of your favorite ice cream, and a carbonated beverage of your choice. The combination of cold, fizzy soda and smooth, creamy ice cream creates a delightful contrast of textures and flavors.
Over the years, countless variations of the ice cream float have emerged. From fruity sodas to unique ice cream flavors, the possibilities are endless. Try it with an orange soda for a creamsicle-like taste. No matter the flavor combination, one thing remains true: ice cream floats are a nostalgic and timeless treat that continues to delight people of all ages.
The Tasting Event Details
Don't miss out on the chance to try Olympic Mountain's Madagascar Vanilla and cast your vote for the best combo.
Join us at Top of the Hill Quality Produce and Meats
on Saturday, the 19th, from 12-2pm for The Great Float Debate!
We will announce the winning combination next week on Facebook and Instagram, so make sure to be there and check our social media pages to see which one is crowned the champion.
We hope to see you there!
back