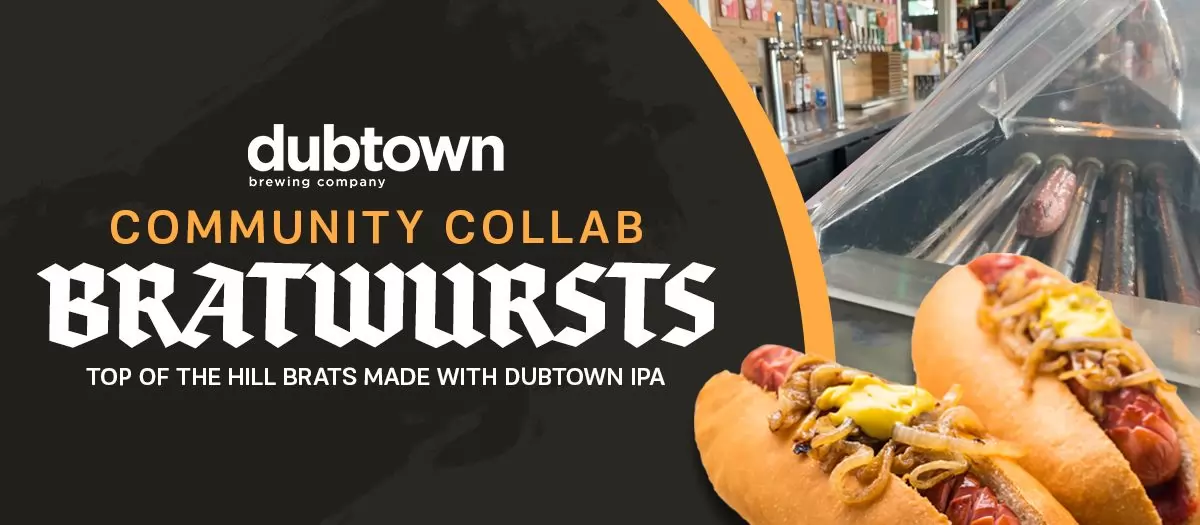 Top of the Hill Bratwurst Meets Dubtown Brewing!
by Top of the Hill on
May 30, 2023
Attention, food and beer enthusiasts! Get ready for an extraordinary culinary experience brought to you by a collaboration between Top of the Hill Quality Produce and Dubtown Brewing Company. We're thrilled to introduce our all-natural bratwurst, handcrafted in the kitchen at Top of the Hill, and infused with the flavorful essence of Jason's IPA from Dubtown.

Original or Spicy Jalapeno: Choose Your Adventure!
We understand that taste preferences vary, which is why we've created two enticing options for our beer-infused bratwurst. If you prefer to savor the original flavors, our classic version is a perfect choice that will leave you craving more.

Our spicy jalapeno bratwurst is a game-changer for those seeking an extra kick. Infused with the same IPA goodness, this option adds a tantalizing heat that will ignite your taste buds and elevate your culinary experience.

Exclusive Delights at Dubtown:
Top of the Hill Quality Produce and Dubtown Brewing invite you to experience our exclusive bratwurst creations, available only at Dubtown in Downtown Renton. Nestled in the heart of the city, Dubtown is a haven for beer lovers with its cozy ambiance, friendly staff, and selection of beers, ciders and IPAs.

A Must-Try Culinary Experience:
The partnership between Top of the Hill Quality Produce and Dubtown Brewing is a celebration of craftsmanship, innovation, and a shared love for exceptional flavors. Our all-natural, beer-infused bratwurst embodies the dedication and passion of both establishments. Crafted with care and infused with the spirit of collaboration, this special treat is a must-try. So grab your friends, head to Dubtown, and try our Top of the Hill bratwurst with your favorite beer.

back