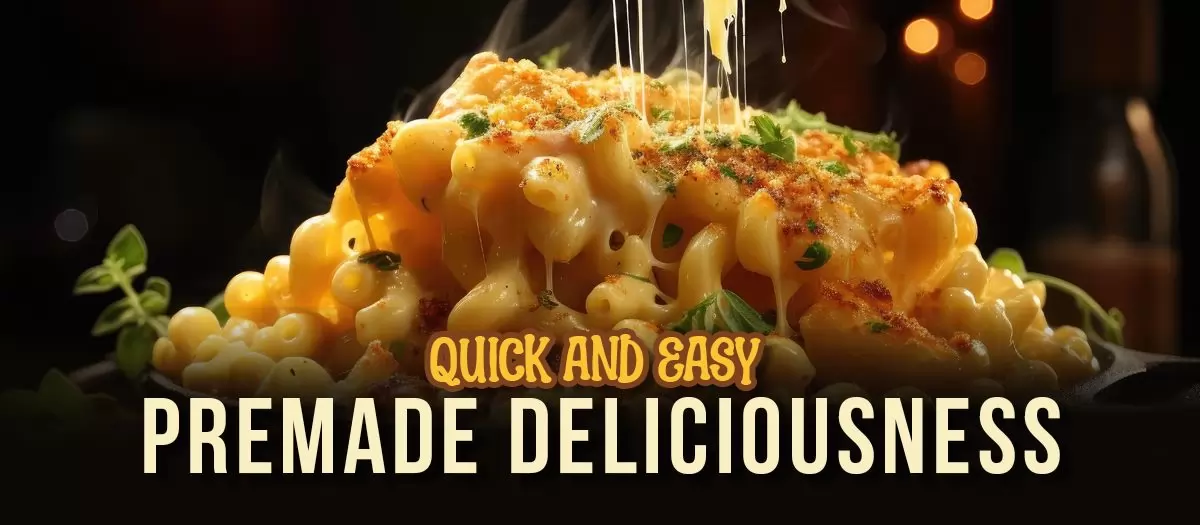 Quick and Easy Meals for Busy Nights
by Top of the Hill on
September 11, 2023
Are you tired of spending time in the kitchen after a long day of work and parenting? Well, we have the solution for you! Top of the Hill Quality Produce offers a selection of quick and easy pre-made meals that are perfect for those busy nights. With options like gooey creamy mac and cheese made with Beecher's, mouth-watering meatloaf, and delectable pre-made lasagna, you can have a delicious dinner on the table in no time.

These pre-made meals from Top of the Hill are a game-changer for busy parents and professionals alike. Instead of spending your evenings chopping, sautéing, and baking, you can simply heat up one of these pre-made meals and enjoy a tasty and satisfying dinner without all the effort. Imagine filling your home with the comforting aroma of these meals. What could be better?

Not only are these meals quick and easy, but they are also made from fresh ingredients. And if you're worried about adding a personal touch to these pre-made meals, don't fret. We'll be sharing some tips and tricks for adding your own flair to these delicious dishes.

Gooey creamy mac and cheese made with Beecher's
When it comes to comfort food, nothing beats a piping hot bowl of mac and cheese. And when it comes to mac and cheese, Top of the Hill Quality Produce has taken it to a whole new level with their house-made recipe with Beecher's, a renowned cheesemaker known for its rich and flavorful cheeses. The result is an oh-so-delicious dish.

What sets this mac and cheese apart is the attention to detail in every bite. The pasta is perfectly cooked, not too mushy, and not too firm. The cheese sauce is velvety smooth, with just the right amount of tanginess from the Beecher's cheese. And if that wasn't enough, the dish is topped with a crispy breadcrumb crust that adds a delightful crunch.

Serve it with a side of green veggies sauteed in olive oil, such as broccoli or Brussels sprouts. Or try it with fresh apple slices. You can even slice up some leftover meat from the night before to mix into the dish.

House-made meatloaf
This ready-to-cook meal is the perfect solution for those nights when you just don't have the time or energy to cook from scratch. Top of the Hill takes all the hard work out of making meatloaf by offering a pre-mixed and seasoned version that is packed with flavor and ready to pop in the oven. Their meatloaf is made with high-quality ingredients so you can feel good about what you are feeding your family.

We also offer premade side dishes such as macaroni or potato salad, and of course, a plethora of fresh produce options, such as baby carrots, which can be eaten raw or steamed as a healthy alternative. And don't forget the sauces: pick up some ketchup, barbeque sauce, siracha or gravy mix at our store, depending on the preferences of those around your table.

Pre-made lasagna
Who doesn't love a good lasagna? This delicious dish is a game-changer! Each layer is carefully crafted with al dente pasta, rich and savory meat sauce, and creamy, melted cheese. The convenience of having a pre-made lasagna means you can simply bake it when you get home. No need to spend hours mixing, layering, and baking.

But just because it's pre-made doesn't mean you can't add your own personal touch. Serve it with a green salad and garlic bread for a complete meal. You can pick those ingredients up at our store, and choose from an assortment of beverages to complete your dinner.



Don't be afraid to get creative and add your own personal touch. Enjoy the convenience of these meals while still feeling like you've created a special dish.
Did you come up with something fun and new? We'd love to hear about it in the comments!
back